Designing and building the next generation of sustainable marine craft requires new ways of working and a dedicated team with a hunger to resolve difficult technical challenges. At Class Xero, we are not only building a yacht but a team capable of employing imaginative approaches within the bio-sustainable marine market.
At ClassXero we believe a successful project requires great delivery partners, each organisation brings a unique group of individuals and specialist together. We all share a common vision of supplying sustainable marine materials and craft that our future generations will enjoy far into the future.

Class Xero has been working with the technical team at Wessex Resins & Adhesives since the outset of the project, they have been very supportive of the project. Their knowledge of bio-based composites is a great asset to the project. They are always there to chat on the phone which has to enable our technical understanding of the next generation of sustainable sailing yachts to proceed at faster than expected.

We have discussed various ideas on how their PRO-SET epoxy products can be used in new ways towards our aim of more sustainable boat construction.  Our tests to date have shown that PRO-SET epoxy bio-resins is not only ideal for its superior properties but also for its credentials, for example, PRO-SET bio-based infusion epoxy yields a 26% bio content within the cured epoxy matrix.

The University of Southampton has been working on bio-resins and natural fibre research (originally sponsored by Lloyds Register Educational Trust) for about 13 years as part of doctoral research into the use of bio-resins for structural applications. They understand the maritime environment is a real tough test for these materials and are seeing increasing interest in how to best deploy these in an industry that, outside the high-performance carbon fibre composites, is otherwise so heavily dominated by unsustainable glass fibre construction. Previous projects include an RS800 built from 200gsm flax WR and Greenpoxy 56 at Green Marine (sadly no longer trading)) making them an ideal delivery partner.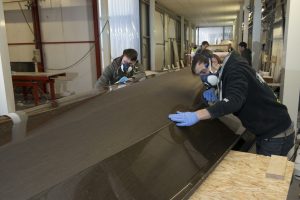 The University will be providing material testing and technical support for the Class Xero development phase. 

Omnia CS is an innovative UK's supplier of composite sandwich panels, offering some of the lightest sandwich panels on the market.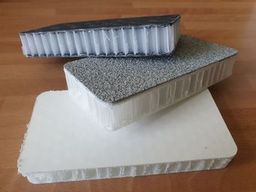 Sustainability is at the very core of what Omnia CS do, with their honeycomb sandwich panel composite sandwich panels being 100% recyclable, contributing to a sustainable future, making them an ideal delivery partner for the Class Xero project.
We look forward to developing the internal load-bearing structures and cockpit area using this unique product.